Video games are one of the greatest ways to escape the real world and to have some fun during your free time.
It's also possible to make money by playing video games if you stream, compete in tournaments, or start your own YouTube channel.
Now, most games that pay money are for consoles or PC gaming since this is where the largest player bases compete and where the money is.
However, there are also many apps that pay you to play games, which is good news for fans of mobile gaming.
If you already enjoy playing games on your phone, this is the post for you.
We're going to break down some of the best games apps that pay to see if they're actually worth your time.
Hopefully, you'll find a few apps that have interesting genres of mobile games that you can play to pass some time and earn cash and free gift cards.
Let's get started!
The Best Apps That Pay You to Play Games
There's a range of games that pay money out there, but in all honesty, most of them are scams or probably aren't worth your time.
There are some legitimate mobile gaming apps that pay, but as always, consider the opportunity cost of sinking hours into mobile gaming…there are plenty of other lucrative options for making money online or side jobs you can turn to if you want more serious cash,
1. Mistplay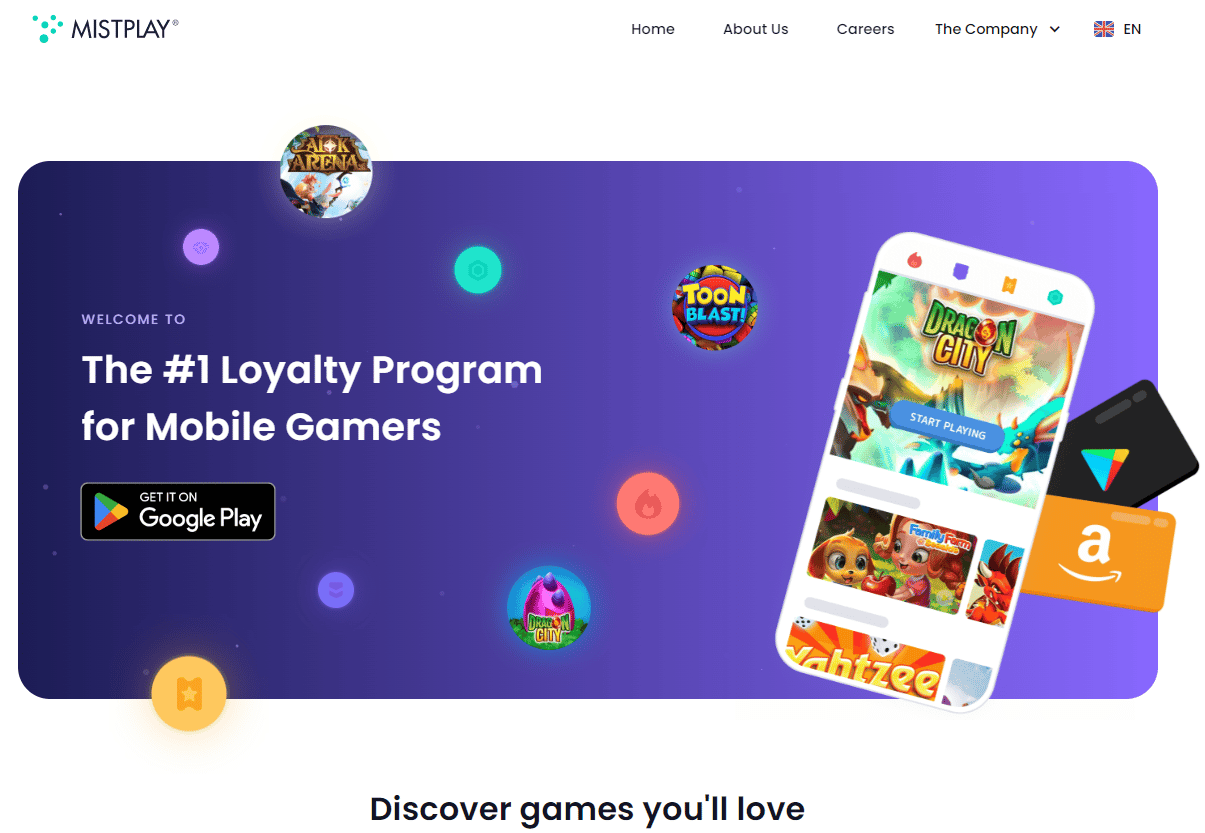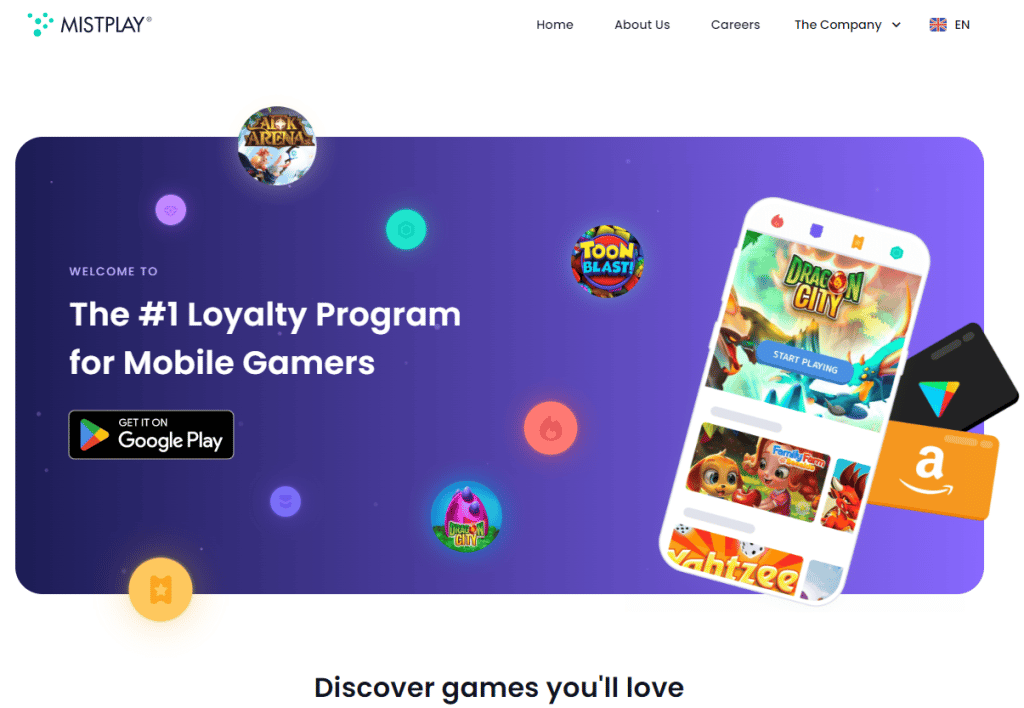 Mistplay is one of the most popular ways to make money playing mobile games, and the app is definitely taking over this category of apps in general.
Mistplay is really a "loyalty program for gamers" that rewards you for trying out new games.
It's currently available for Android and has over 5 million downloads with a 4.4 star rating in the Google Play Store.
The concept behind Mistplay is simple: earn points for playing games and leveling up your Mistplay account and redeem points for a variety of free gift cards.
Mistplay tracks your playtime to ensure you earn points. The more you play, the more you earn.
The app also tracks your in-game rank and achievements and rewards users with points the more they progress.
There's a decent mix of Mistplay games, including genres like strategy, card games, simulation games, survival games, and puzzles.
Gift card reward variety is also decent and includes options like:
Now, like most apps that pay you for playing games, it takes a while to actually earn your first gift card.
Plus, the more you level up, the harder it becomes to keep earning rewards.
Ultimately, this means that Mistplay is a worthwhile app if you already play games on your phone. Just be prepared for a bit of grinding if you want frequent rewards.
2. Drop
Drop is a popular reward app that pays you for shopping through the app for sponsored offers. In a nutshell, Drop is a mix between websites like Rakuten and cash back apps like Pei.
Shopping is definitely the main way to make money with the Drop app.
However, Drop has recently added a way to get paid to play games that gives Mistplay a run for its money.
Once you create a Drop account, you can download sponsored games from a wide variety of genres.
Each games pays you Drop points for reaching a certain level, and there are games that pay between $10 and $20 worth of points for leveling up.
Again, this is a bit of a grind.
However, Drop has plenty of free gift cards to choose from, and when you stack game rewards with cashback from shopping, you can definitely redeem a few gift cards per year with this app.
3. Ready Games
Ready Games is a free app available on IOS and Android where you compete in mobile games against other players for a chance to win money.
Here's a simple run down of how Ready Games works:
The prize pool is usually $1000 and is split between the winners. Ready Games has already distributed over $140,000 in prize money!
Ready Games is particularly fun because of the competition factor whereas most apps that pay to play games are completely solo.
If you want a competitive option to make money playing mobile games, definitely consider trying out Ready Games!
4. Bananatic
Bananatic lets you earn rewards (or bananas as they call it) for playing video games and testing new games.
With Bananatic, you customize your preferences to choose your favorite genres of games to test. This is a massive perk compared to many other platforms since you can actually play games you enjoy.
Each banana is worth $0.002, meaning you need 2,500 bananas to redeem $5 of gift cards, games, or free Steam codes.
Additionally, almost all of the games on Bananatic earn you 100 bananas each for trying them out.
This is really a paid testing platform. However, there are some premium titles on the platform, and you can also write game reviews for extra bananas.
Overall, Bananatic is a great option if you enjoy testing games in a specific genre and want to play some premium games as well.
The platform has paid out more than $450,000 to members so far, and while it's a slow earner, Bananatic is legit.
5. Coin Pop
If you like apps like Mistplay, Coin Pop is another way to play mobile games for money.
Coin Pop is free and is available for Android devices.
Like Mistplay, the idea behind Coin Pop is to download sponsored games, level up in-game, and earn free gift cards for your efforts.
The rewards are paid out in coins, which are redeemable for gift cards to Amazon, Play Station Store, Google Play, Steam, and many other options.
Coin pop has over 150,000 reviews, and it's one of the largest gaming rewards apps on this list.
It's a slow-earner like most game apps, but hey, if you already sink time into mobile gaming you might as well earn something for your efforts.
You can choose from a wide variety of games on Coin Pop, so this app is a decent alternative to Mistplay if you want to check out a new list of mobile games.
6. PlaytestCloud Games
There are several companies that pay you to test websites. If you like quality assurance work, this type of gig is right up your alley.
However, a subset of this industry involves testing mobile games and apps for money rather than strict website testing.
If this sounds like something you're interested in, you definitely need to check out PlaytestCloud.
Similar to website testing jobs such as UserTesting, PlaytestCloud pays you to test out new games in development and to provide feedback.
In exchange for giving feedback about functionality, features, and your overall enjoyment, you get paid PayPal cash.
Generally, tests pay around $9 for a 15 minute session.
However, pay can increase depending on test length and other complicated tasks since game developers are free to ask testers to go in-depth with their reviews.
Again, this is really a quality assurance job, so you need to give feedback and suggestions to do your job correctly.
However, if you like trying new game apps and want to earn a solid wage for your time, PlaytestCloud is worth signing up for.
Just note that you need to take an unpaid test session to get approved as a future game tester.
7. Trivia Apps That Pay
If you're a trivia fanatic and aren't interested in playing mobile games, you can always consider trying trivia apps that pay money in your spare time.
There are a number of trivia apps you can try, including:
Trivia apps are fairly competitive. You normally compete against several thousand players, and if you make it through every trivia round, you split a prize pool with remaining players.
This means that winning a trivia round won't pay hundreds of dollars. However, this is potentially free money and also fun so you really can't complain.
Ultimately, if you're a trivia fan, this is the right app category to start exploring.
8. Appstation
Appstation is another popular option to make money by trying different mobile apps.
Like Mistplay and Coin Pop, Appstation is only available for Android devices. If you want to make money by trying even more sponsored games, add Appstation to the mix.
The premise is identical to other game apps that pay: install sponsored games, level up, and earn coins.
50,000 coins is worth $5, and you can redeem coins for free gift cards to stores like Amazon, Groupon, Walmart, Google Play credit, and even PayPal cash.
Appstation has 100,000 reviews (most of them being 5 stars) and over 5 million users making money for playing games. It's pretty much the largest competitor to Mistplay that's out right now.
If you like mobile gaming, consider giving Appstation a try.
Just remember: the more you play, the more you earn, so this app is really ideal for serious mobile gamers and not casual players.
9. Swagbucks
Swagbucks is an incredibly popular website that lets you watch videos, take surveys, test websites, and play online games to earn free gift cards.
Online survey websites aren't worth it most of the time. Swagbucks isn't an exception.
However, if you're a fan of mobile gaming, especially betting games, Swagbucks is an alright option to consider.
To earn money by playing games with Swagbucks, you need to open a GSN (Game Show Network) account. This grants access to premium game titles and lets you earn Swagbucks for every dollar spent on casino/cash games.
Here's the thing… if you're not going to actually play casino/cash betting games on your own, you're better off avoiding Swagbucks.
Yes, there are other small games that you can play for completely free on Swagbucks. However, another one of the apps on this list will do you better justice.
10. AppNana
AppNana is another mobile app that lets you earn rewards by downloading and playing sponsored apps.
When you try an app, you receive Nanas. These Nanas are the points that you use to redeem various gift cards or even towards getting paid apps for free!
This is, again, identical to apps like Mistplay, Coin Pop, and Appstation…you can try all 4 apps if you want to maximize your earnings, but they all have a similar earning potential at the end of the day.
Most apps on AppNana seem to pay around 2,000 Nanas. A $20 gift card costs somewhere around 280,000 Nanas while a $40 gift card costs approximately 480,000 Nanas.
Clearly it'll take a while to accumulate that many points, but if you enjoy playing the games, it could be worth your time.
Earning Potential – Are Game Apps That Pay Legit?
Here's a simple truth…
The earning potential for apps that pay you to play games is extremely low and this will never change.
Don't expect these apps to cover any sort of expenses in your daily life unless you grind out every game on your list and sink dozens or hundreds of hours into games.
If you like mobile gaming, these apps are worth a try to score some free gift cards every so often.
Otherwise, steer clear of them or try alternatives like passive income apps if you want to make money with your phone.
How These Apps Make Money
A lot of these apps claim to work well, but in reality, this is just marketing buzz to get you to download the app and start testing games.
Apps that pay you to try new apps make money by receiving a commission from the game developers when you download one of their games.
Therefore, the more users they churn through, the more money they make.
This also means that they don't necessarily care about putting out good games…as long as you download an app and give it a test run, they get a commission.
Ultimately, use your best judgment when deciding if playing mobile games for cash is worth it or not.
Other Options To Consider
If you're still on the fence for whether or not you should use these apps to earn rewards, take a look at some alternatives that might be more worthwhile.
1. Reward Apps
There are tons of reward apps out there that give you the same amount or more than you would earn by playing mobile games.
Most of these apps pay you for shopping at retailers you already shop at or help save money online with browser extensions.
Some of the best reward apps and websites include:
These apps won't make you rich, but hey, you might as well earn cashback and free gift cards for products you purchase anyway!
2. Gig Jobs
Although this doesn't have much to do with making money online, these gig economy apps are a great way to earn some real money during your free time.
If you want to seriously increase your income, you can try out gig jobs like:
If you have a full-time job, the gig economy has enough flexibility and opportunity so that you can hustle on the days when you have more time.
The pay is better than any mobile gaming app, but your preference and income goal is really what matters most when making this decision.
Final Thoughts
There's an incredible number of ways to make money online or with your smartphone thanks to the power of technology.
However, many options are simply not worth the opportunity cost when you break down your hourly pay.
Apps that pay you to play games are somewhat of a gray area in this regard because these apps aren't really a pure side hustle…there's also the "fun" factor to consider.
After all, if you already play mobile games, earning free gift cards is just the cherry on top for using these sorts of apps.
Now, if you're just interested in making extra money each month, there are way better alternatives out there…turn to the gig economy or other ways to make money quickly that has more potential.
Ultimately, have realistic expectations and know that gaming apps that pay won't dramatically change your finances (and any app that claims it will is too good to be true!)
That's all for this one. Thank you for reading!